BUILT WILD. THIS BRONCO GOES OVER ANY TYPE OF TERRAIN.
The Bronco comes with Trail Control which is like cruise control for managing off-road throttling/braking, Trail Turn Assist that reduces turn radius, Trail 1-Pedal Drive for low speed crawling, off-road navigation with the FordPass Performance App, and a Terrain Management System featuring five G.O.A.T. models that Goes Over Any Terrain. There are five standard drive modes (Sand, Slippery, Sport, Eco and Normal) as well as eight available drive modes that vary by trim level. The Badlands trim comes with Mud Ruts and Rock Crawl drive modes, but replaces the Sport mode with Baja mode.
The off-road Sasquatch Package, standard on the Wildtrak trim but available on every trim level, includes 35-inch tires, 17-inch beadlock wheels, front-rear locking differentials, Trail Control, high-clearance suspension, high-clearance fender flares, and a 4.7 final drive ratio. The Bronco also has an 11.6 inch ground clearance on the aforementioned 35 inch tires, and is capable of water-fording up to 33.5 inches!

The 2021 Ford Bronco is perfect for any adventure you want to pursue. If the sand is your preference, then Imperial Sand Dunes in Glamis, CA is where you want to be. Located off Hwy 78 between and Blythe and Brawley, the Imperial Sand Dunes are known as the "Sand Toy Capitol of the World". There is golden sand as far as the eye can see. The Ford Bronco is perfect for a day trip or stay overnight in designated camping areas. Your biggest decision of the day will be doors on or off!
Southern California offers some of the best off road trails for your new Ford Bronco. Whether you're looking for an easy trail or a more challenging one, give one of these a try. An easy trail, Mule Canyon in Barstow, is a 6.5-mile dirt road that cuts through the southern section of the Calico Mountains. You will experience open canyon, a hard, windy trail as well as mud hills. A great trail to introduce the Bronco Terrain Management System. If you are looking for a challenge, try Bull Frog in Lucerne Valley. Rated as "difficult/severe", this trail offers waterfalls, large rock obstacles, and narrow v-notches. You will have a chance to really experience the Bronco's G.O.A.T modes! On top of some legendary off-roading, the area is perfect for everything from RV camping, to overlanding, to tent camping.
South Bay Ford's team of Bronco Specialists can help you build and order your Bronco with all the packages and options you want to get you back into the wild.
General Bronco Frequently Asked Questions
Why do certain models prohibit some accessories?
We have a Bronco for every customer. Many Bronco accessory items can be added during or after vehicle delivery at the dealership. We engineered the Bronco for maximum off-road capability and gross vehicle weight rating (GVWR) restrictions may limit the combinations of certain accessories.
Where can I see a Bronco in person?
Dealer demo units are en route to dealerships across the country. You can also check out a Bronco at any of our events, including the Bronco Off-Roadeo.
What is the Bronco Off-Roadeo and how do I attend?
The Bronco Off-Roadeo is an off-roading and outdoor adventure experience located at four epic destinations across the United States. Admission is included with the purchase of any two- or four-door Bronco and Bronco Sport Badlands and First Edition series. Order holders are eligible to attend ahead of taking delivery of their Bronco and can register here.
What is FordPass?
FordPass is Ford's owner app. It lets you control your vehicle remotely, access 24/7 Roadside Assistance, schedule service, and more. To download or learn more about the FordPass App, click here.
What is the FordPass Rewards program and how does it work?
FordPass Rewards (FPR) is Ford's loyalty program, thanking our valued customers. Within the program, you can earn FordPass Reward Points as a currency to use at participating Ford dealerships to apply as money off on accessories, parts, and services. You can use the points in any eligible way that best meets your needs. Your Ford Dealer can claim your Points at the time you pick up your vehicle and you can start using them immediately. For more information on FordPass Rewards, click here.
How do I find out how many FordPass Reward Points I have?
As a thank you for your interest in the Bronco and for your patience, we have provided the following bonus offers:
•

Bronco Reservationists Thank You Bonus: Bronco reservationists as of December 15, 2020, who order and take delivery of a new Bronco will be awarded 20,000 FordPass Rewards Bonus Points (approximately a $100 value).
•

Bronco Roof Bonus: Select Bronco order holders impacted by the black painted modular hardtop and dual top roof delay will be awarded 200,000 FordPass Rewards Bonus Points (approximately a $1,000 value).
•

All First Edition customers, regardless of roof originally ordered
•

Non-First Edition customers with black painted modular hardtop or Dual Roof option on order as of March 19, 2021
Note: You must take delivery of 2021 or 2022 model year Bronco to receive Bronco Roof Bonus points.
If you have questions about your eligibility or want more information on how to use the FordPass Rewards Points, please contact your Ford Dealer or the Bronco Support Team at 800-334-4375.
Why did Ford shut off reservations for two- and four-door Bronco vehicles?
Due to the high demand, we're temporarily pausing reservations for Bronco vehicles. If you are interested in a Bronco vehicle, contact your Ford Dealer.
Can I place an order for a Bronco vehicle if I do not have a reservation?
Yes, you are encouraged to work directly with your Ford Dealer who can help with the ordering process, timing, and options. For example, you may be able to get a vehicle that's already built or scheduled. Due to the high number of orders, the delivery of Bronco vehicle orders placed today will extend through the 2022 calendar year.
If I already have a reservation for a Bronco vehicle that has not been converted to an order, can I still place an order?
Yes. your Ford Dealer can convert existing reservations to orders with your permission.
What Bronco model configurations can I order?
When will Ford reopen reservations for Bronco vehicles?
We will provide an update once more information is available.
BASE
The Essential Bronco - This Bronco comes with only the absolute essentials, making it ripe for customization and personalization by a full line of factory-backed accessories. Don't worry though; it still has all the key features that make a Bronco a Bronco, such as standard 4x4, easy-to-remove doors and roof, as well as optional 35-inch tires in the Sasquatch Package.
Preproduction Computer Generated Image Shown.
BIG BENDTM
Mainstream Off-Roading - Interested in some creature comforts along with your standard Bronco features? Items such as a leather-wrapped steering wheel, heated seats, aluminum wheels, a power inverter and remote start? You can get those features (and more) with Big Bend. Make sure to check out the Mid Package Equipment Group.
Preproduction Computer Generated Image Shown.
BLACK DIAMONDTM
Adventure Off-Roading - Next-level outdoor adventure comes with standard rear-locking differential, steel front and rear-bumpers, rock rails, heavy-duty skid plates and seven G.O.A.T. Modes (Goes Over Any Type of Terrain) to help navigate the trails. Marine-grade vinyl seat trim and a washout interior make for easy post-wheenlin' cleanup.
Preproduction Computer Generated Image Shown.
OUTER BANKSTM
Off-Roading in Style - Mounted on 18-inch high-gloss black-painted aluminum-alloy wheels, this series features standard signature LED headlamps and taillamps, body-color fender flares and powder-coated tube steps. Inside, comfort and convenience for your off-road adventure come by way of an optional 12-inch LCD touchscreen and B&OTM Sound System.
BANG & OLUFSEN 2020 and B&O 2020. BANG & OLUFSENTM and B&OTM are registered trademarks of Bang & Olufsen Group.
Preproduction Computer Generated Image Shown.
BADLANDSTM
Extreme Off-Roading - Need a little more capability than what Black Diamond offers? Badlands has you covered. BilsteinTM position-sensitive monotube shocks, stabilizer bar disconnect, and front and rear-locking differentials make this the most capable Bronco you can get.
Connecting all that torque to the ground are a choice of 35- and 33- mud, and all terrain tires. On the inside, Badlands offers the full range of interior appointments, from a sparse vinyl interior to a leather technology-packed option.
Preproduction Computer Generated Image Shown.
WILDTRAKTM
High-Speed Off-Roading - Take thrills head-on with the standard Sasquatch Package: 35-inch tires wrapped around 17-inch beadlock-capable wheels, front and rear-locking differentials, and BilsteinTM position-sensitive monotube shocks. Spinning those tires is a standard 2.7L twin-turbocharged V6 engine, and a 10-speed automatic transmission.
Outside, Wiltrak comes with a black-painted hardtop, black grille, black wheels and a unique hood graphics. Developed and tested in legendary racing locations like Johnson Valley, California, Bronco Wildtrak sets a new bar for capability among rugged, off-road utilities.
Preproduction Computer Generated Image Shown.
FIRST EDITION
Reservations Full - The First Edition Bronco is built for those who have waited patiently for Bronco's return to the wild. The First Edition is a fully loaded Bronco combining the best parts of all Bronco series. First Edition uses the mechanicals of a Badlands, the interior of an Outer Banks, and exterior of a Wildtrak to create the ultimate fully loaded Bronco. This is a limited-edition run, with only 7,000 being manufactured.
Preproduction Computer Generated Image Shown.
PHOTO GALLERY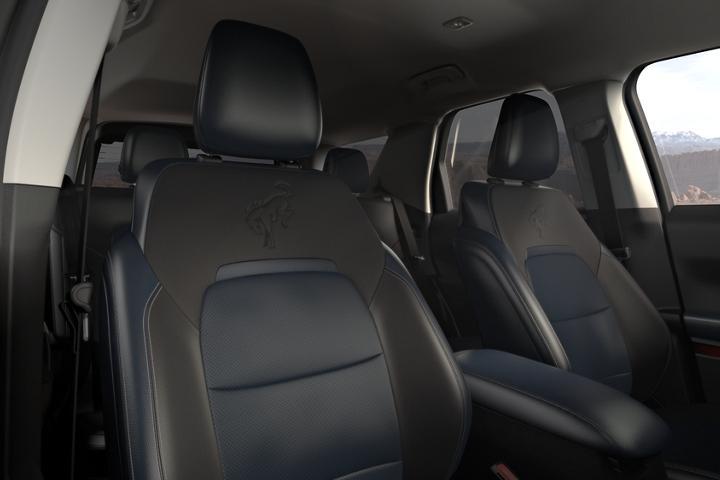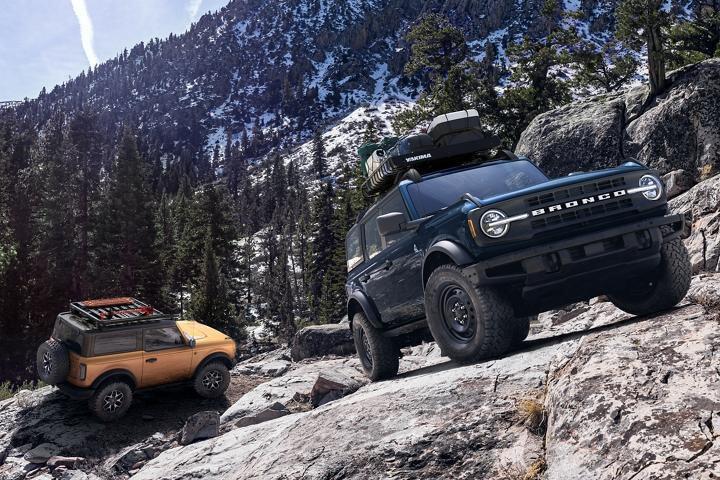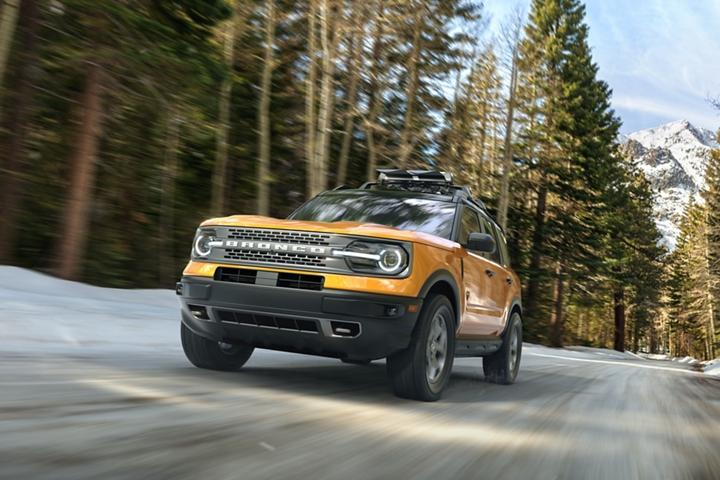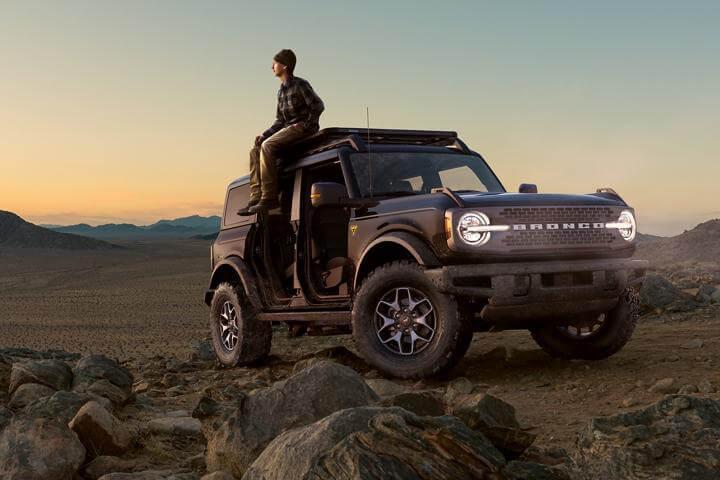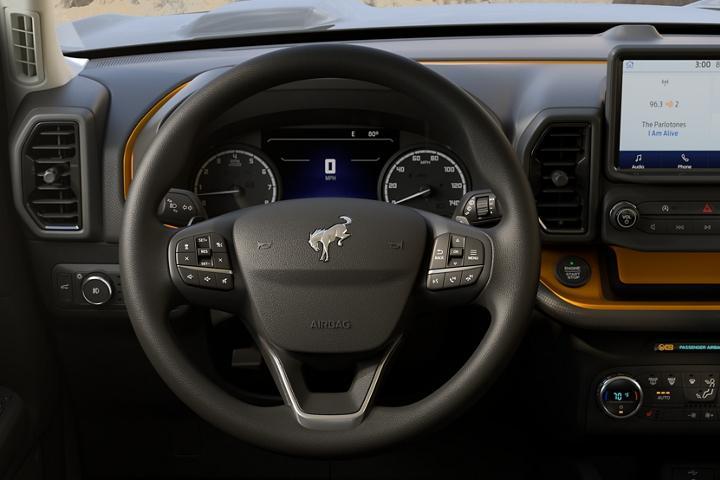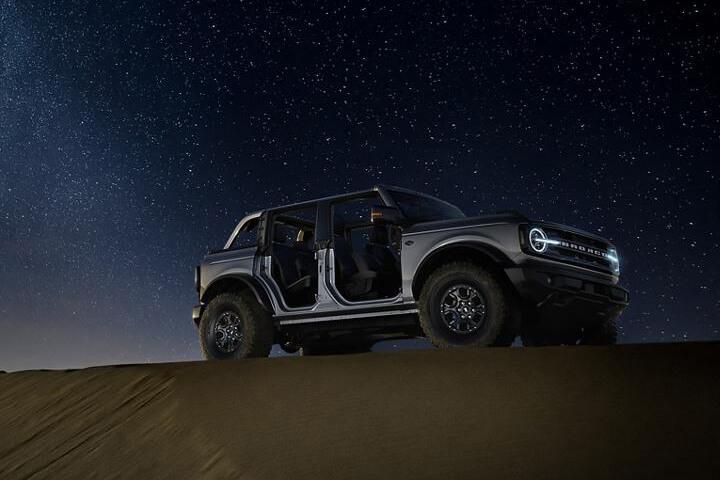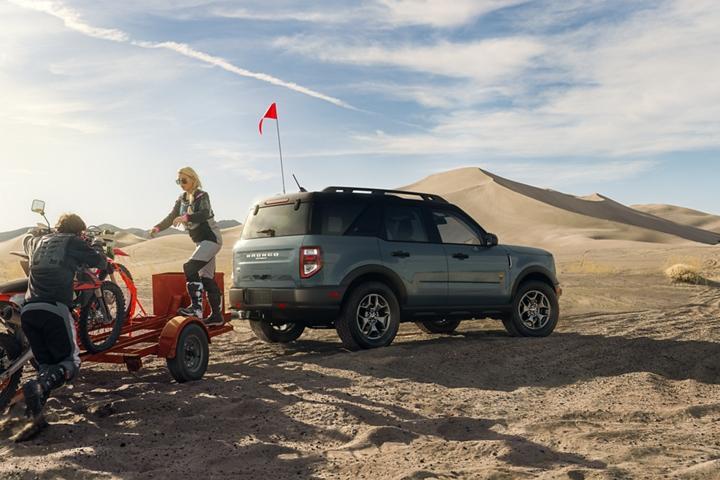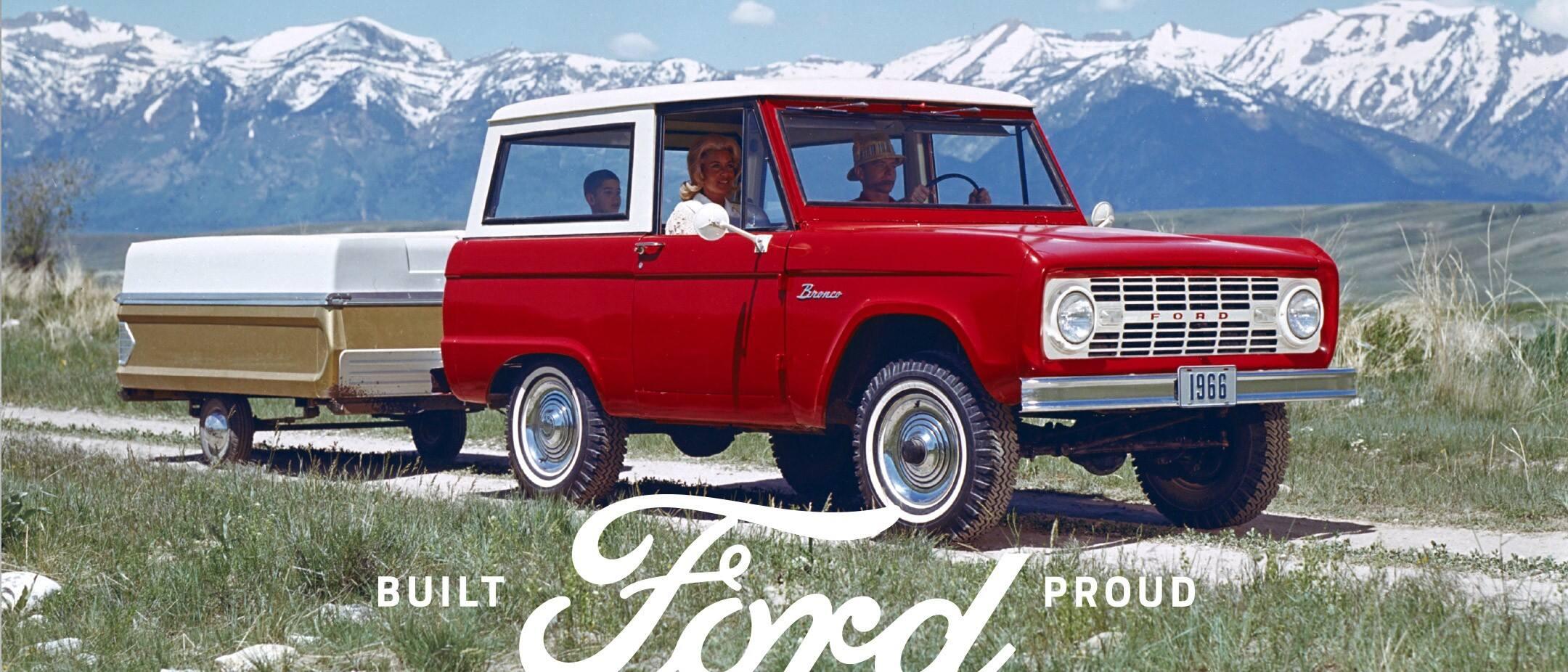 BRONCO HISTORY
The Ford Bronco was produced from 1966 until 1996 and had five different generations:
•
1966-1977 – Generation I (The 'Early Bronco')
•
1978-1979 – Generation II
•
1980-1986 – Generation III
•
1987-1991 – Generation IV
•
1992-1996 – Generation V
The first Ford Bronco launched in August 1965 with the first model year as a 1966. Ford advertised the vehicle as "Bronco All-Purpose Vehicle" and it was developed to compete against Jeep CJ-5 and International Scout 800. During the first two years, Ford sold more than 35,000 Broncos as new owners enjoyed a smoother ride and more power compared to its competition.
The Wagon was the most common and offered a full-length roof with upper body sides installed on the basic body. The top and upper body sides could be unbolted and removed, as desired. The first generation featured an off-road gear like a transfer case and was available in either six or eight cylinders.
Twelve years after its debut, the second generation Bronco was introduced. It looked like the F-100 and featured V-8 engines. It was sold as a single three-door model with a removable hard top. This model featured the signature Bronco hallmark, a rear window that lowered into the door.
The third generation Bronco brought more comfort with a revised front suspension making it more tolerable on road. A six-cyclinder engine was re-introduced to complement the 8-cylinder engine.
The fourth and fifth generations of the Bronco brought in more elements of the F-series pick up trucks and softer looking lines. Emphasis was placed on safety and the removable hardtop was replaced with a supplanted roof.
The last year of production for the Ford Bronco was 1996. The introduction of the 4-door Ford Expedition in 1997 was its replacement. For more information on the Bronco's history and heritage, please click here: 
https://www.ford.com/bronco/history/1966-1977/
.
Let South Bay Ford's Bronco Specialists help you get into a new Bronco today. Simply start the custom order process. Our team will assist you through the order process.
BRONCO HERITAGE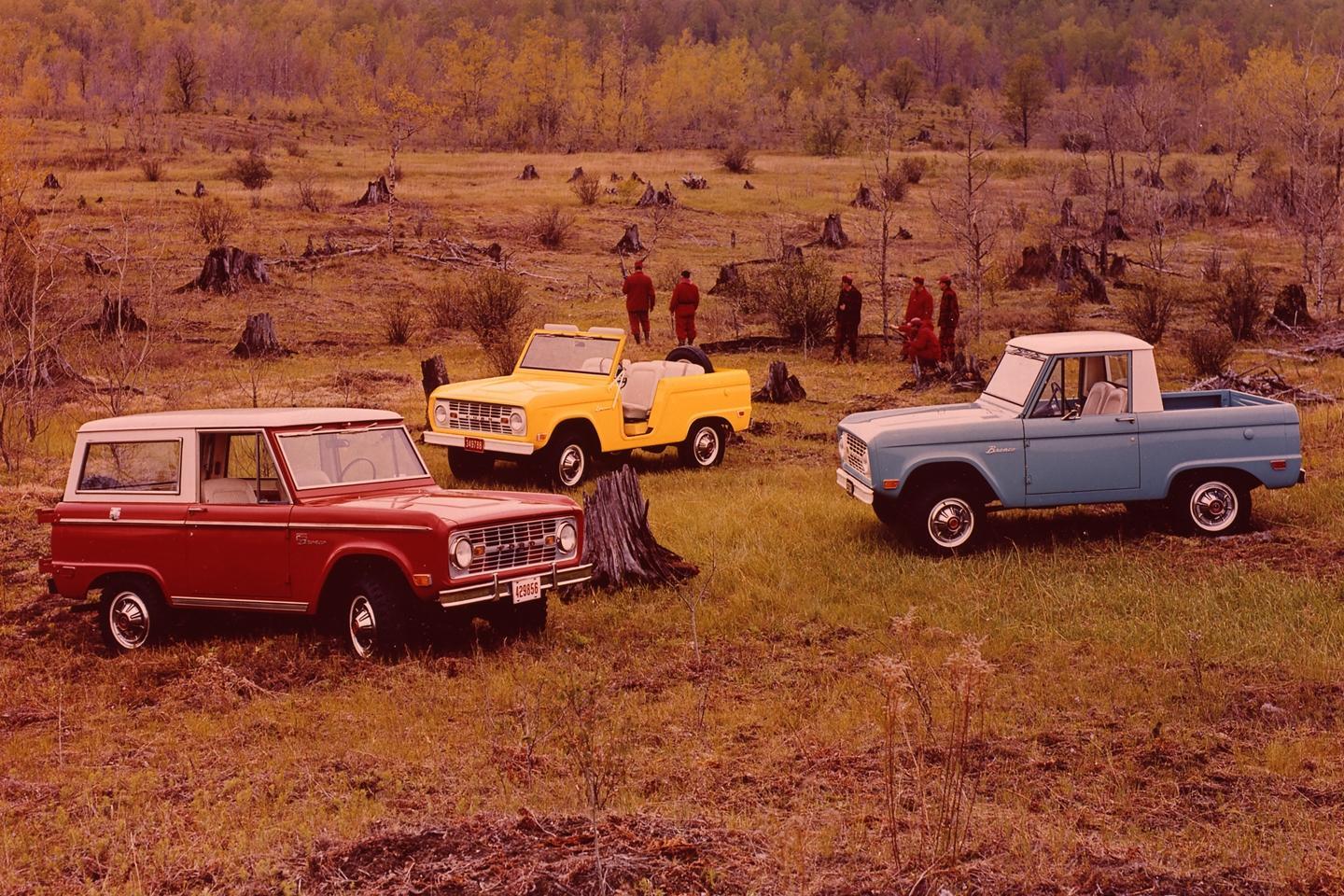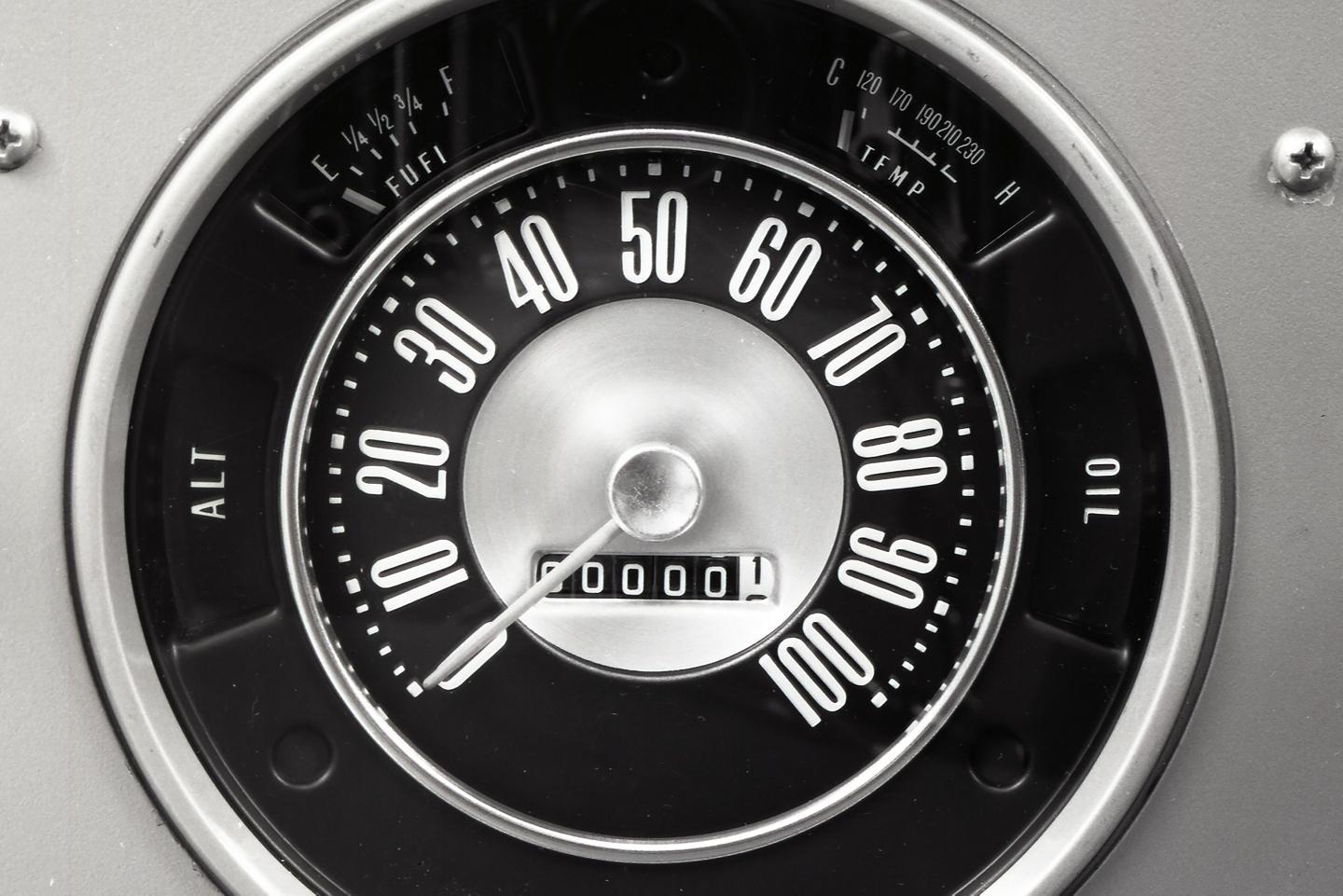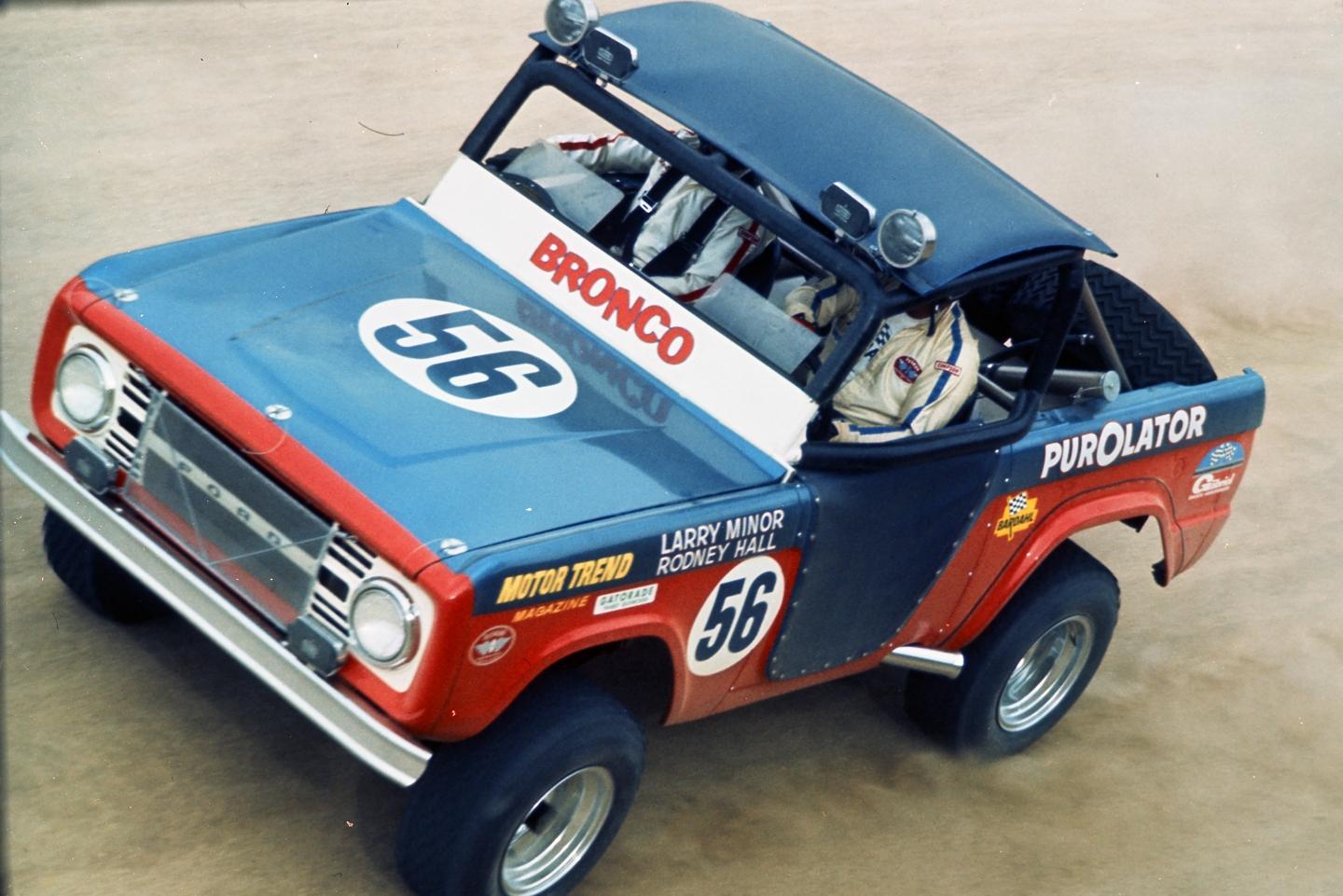 Take advantage of the best car lease deals in Los Angeles on SUVs and drive off with confidence when you work with the finance experts at South Bay Ford.
Whether you're in Santa Monica, Torrance, Manhattan Beach, Gardena, Hawthorne, Redondo Beach or Los Angeles, your new Ford Bronco from South Bay Ford is ready to take you home.