Key Features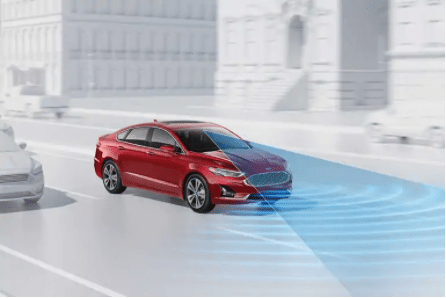 Standard on All Fusion Models Includes:
Pre-Collision Assist with Automatic Emergency Braking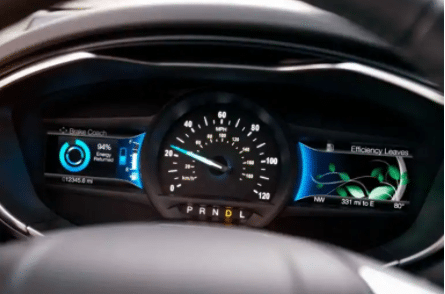 SmartGauge with EcoGuide
The more efficiently you drive, the more leaves you grow. The dual LCD SmartGauge with EcoGuide provides real-time information to help you enhance the efficiency of your Fusion Hybrid or Fusion Energi plug-in hybrid. Configurable screens, such as Brake Coach, help you maximize your vehicle's efficiency. Left-side display screens include Engage and Empower modes. In Engage, you'll see separate gauges for engine power and lithium-ion battery power. In Empower, which includes all the information in Engage, you'll also see how close you are to the gasoline engine on/off threshold and the amount of power being requested based on how far you're depressing the accelerator pedal.
What to Know Before Buying An Electric Vehicle
Find out more about driving an electric vehicle before you make your purchase. This means choosing the Ford vehicle that best fits your lifestyle, to taking advantage of availible incentives to instaling your own home charging station (if you choose to plug in), and so much more.
2020 Escape SE Sport Hybrid
Key Features
Hybrid 2.5L iVCT Atkins-Cycle I-4 engine
The 2.5L I-4 Atkins-cycle powertrain features an electronically controlled continuously variable transmission (eCVT) and an 88 kW Electric motor. Also, the all-new Escape Hybrid packages its liquid-cooled lithium-ion battery smartly outside of the vehicle below the floor of the second-row seats rather than occupying a significant portion of the cargo area. The Briefcase-shaped battery in the standard hybrid measures less than one-third the size of the old Escape Hybrid battery. Standard on all Escape Hybrid* and plug-in hybrid models.**
*See an EV-certified authorized Ford Dealer for details
**Plug-in Hybrid available spring of 2020
12.3'' Full Digital Instrument cluster
A new way to look at your dash. The available 12.3-inch digital instrument cluster lets you configure the look and function of your driving information.
19-Inch Machined-Face Aluminum Wheels with Ebony-Painted Pockets
The top-of-the-line 2020 Ford Escape Titanium rides on these standard 19-inch machined-face aluminum wheels with Ebony-painted pockets
2020 Ford Explorer Hybrid
Ford has officially announced the EPA fuel economy ratings for the 2020 Explorer Hybrid, and it's quite impressive. In rear-drive guise, the 2020 Ford Explorer Hybrid is rated at 27/29 mpg city/highway. With its 18.0-gallon fuel tank, the Explorer is estimated to do 500 miles on a single tank, which Ford says will get you from Los Angeles to Las Vegas and back in one tank. As always, the EPA notes your mileage will vary.
Adding all-wheel drive, however, drops fuel economy down to 23/26 mpg and overall range to 450 miles. The 18.0-gallon fuel tank remains on all-wheel-drive-equipped 2020 Ford Explorer Hybrids, which helps minimize the hit from the lower fuel economy ratings. In comparison, the outgoing 2019 Toyota Highlander Hybrid with the old 3.5-liter V-6 is rated at 29/27 mpg for all models except the base LE, which checks in at 30/28 mpg. That version has an EPA-estimated range of 499 miles. We don't have official fuel economy figures for the new 2020 Highlander Hybrid yet, but Toyota is estimating it will get 34 mpg combined, or 6 mpg higher than the most fuel-efficient 2020 Ford Explorer Hybrid.
The 2020 Ford Explorer Hybrid makes up for the lower fuel economy ratings in towing and power. Regardless of the drivetrain configuration, the Explorer hybrid can tow up to 5,000 pounds when properly equipped, more than the 2019 Toyota Highlander, which is only rated for 1,500 pounds. Toyotahasn't revealed whether the 2020 Highlander Hybrid with its new powertrain is rated for towing.
Under the hood, the 2020 Ford Explorer Hybrid has a 3.3-liter V-6 paired to an electric motor, a liquid-cooled lithium-ion battery, and a 10-speed automatic transmission. Total system output is 318 hp and 336 lb-ft of torque, which is 12 hp more than 2019 Toyota Highlander Hybrid. For 2020, Toyota debuted the Highlander Hybrid with a new 2.5-liter I-4 hybrid system, which has a total system output of 240 hp. Currently, the hybrid powertrain is only available on the Limited trim of the 2020 Ford Explorer. There's no word on whether it'll be available on less expensive variants or the range-topping Platinum.