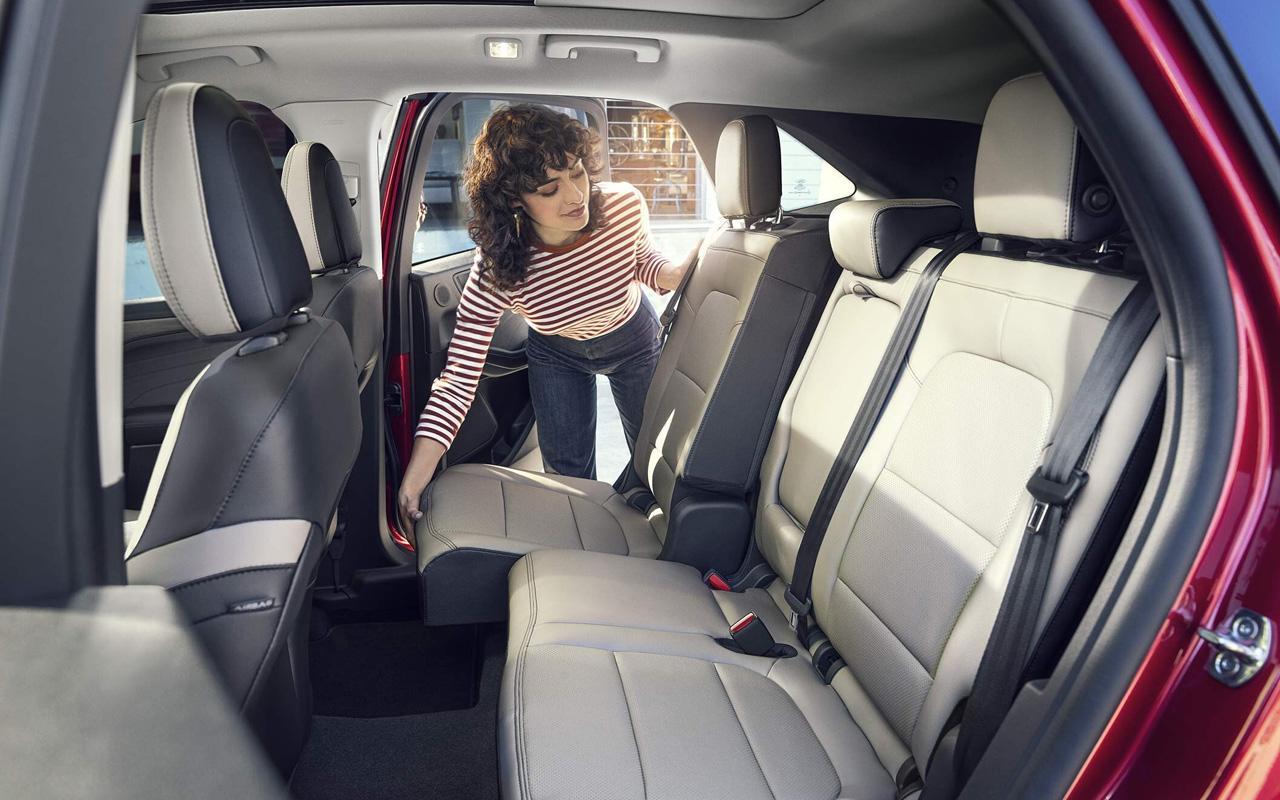 View Ford Escape Hybrid Engine Specifications
| Engine Specifications | 2.5L hybrid | 2.5L plug-in hybrid | 1.5L EcoBoost® | 2.0L EcoBoost® |
| --- | --- | --- | --- | --- |
| Engine Type | 2.5L iVCT Atkinson Cycle I-4 Hybrid | 2.5L iVCT Atkinson Cycle I-4 Plug-In Hybrid | 1.5L Ti-VCT GTDI I-3 | 2.0L Ti-VCT GTDI I-4 |
| Drive Type | Front-Wheel Drive (FWD)or Intelligent AWD | Front-Wheel Drive (FWD) | Front-Wheel Drive (FWD) or optional Intelligent AWD | Intelligent AWD |
| Exhaust | Dual-Chrome Exhaust Tips | Dual-Chrome Exhaust Tips | Dual-Chrome Exhaust Tips | Dual-Chrome Exhaust Tips |
| Transmission Type | eCVT | eCVT | 8-speed Automatic Transmission | 8-speed Automatic Transmission with SelectShift Paddle shifters |
| Horsepower (SAE net@rpm) | 165 @6,250 ** | 165 @6,250 ** | 181 @6,000 rpm* | 250 @ 5,500 rpm* |
| Torque (lb.-ft.@rpm) | 155 @4,000** | 155 @4,000** | 190 @3,000 rpm* | 280 @ 3,000 rpm* |
| Total System Horsepower (Hybrid and Plug-in Hybrid) | 200** | 221** | - | - |
| Compression Ratio | 13.0:1 | 13.0:1 | 11.0:1 | 10.0:1 |
| Valve Lifters | Direct acting mechanical bucket | Direct acting mechanical bucket | Direct acting mechanical bucket | Direct acting mechanical bucket |
| Engine Block Material | Aluminum | Aluminum | Aluminum | Aluminum |
| Cylinder Head Material | Aluminum | Aluminum | Aluminum | Aluminum |
| Induction System | Naturally aspirated | Naturally aspirated | Turbocharged | Turbocharged |
| Fuel Delivery | Sequential multi-port electronic fuel injection | Sequential multi-port electronic fuel injection | Direct injection | Direct injection |
| Fuel (minimum) | Regular unleaded | Regular unleaded | Regular unleaded | Regular unleaded (Premium preferred) |
| EPA-Estimated Ratings FWD (Actual mileage will vary) | 44 City/37 Hwy/41 Combined | 105 Comb. MPGe | 28 City/34 Hwy/ 30 Combined | N/A |
| EPA-Estimated Ratings AWD (Actual mileage will vary) | 43 City/37 Hwy/40 Combined | - | 26 City/31 Hwy/ 28 Combined | 22 City/31 Hwy/26 Combined |
*Horsepower and torque ratings based on premium fuel per SAE J1349 standard. Your results may vary.
**Calculated via combined performance of the engine and electric motor(s) with peak battery power. The calculations utilize SAE J1349® engine results and Ford electric motor dyno testing. Your results may vary.
Ready to go green? Explore the 2022 Ford Escape SE Hybrid. Schedule a test drive today and experience fuel efficiency, responsive handling, and cutting-edge technology.
With its spacious interior and versatile cargo capacity, the Escape SE Hybrid is the perfect SUV for modern adventures. Don't miss out - visit our dealership now!